VIB pioneers advandced security solution in online payment
VIB là một trong những ngân hàng đầu tiên sử dụng giải pháp bảo mật an ninh mạng nới sử dụng Smart OPT cho phương thức thanh toán online - bao gồm cả internet banking và mobile banking.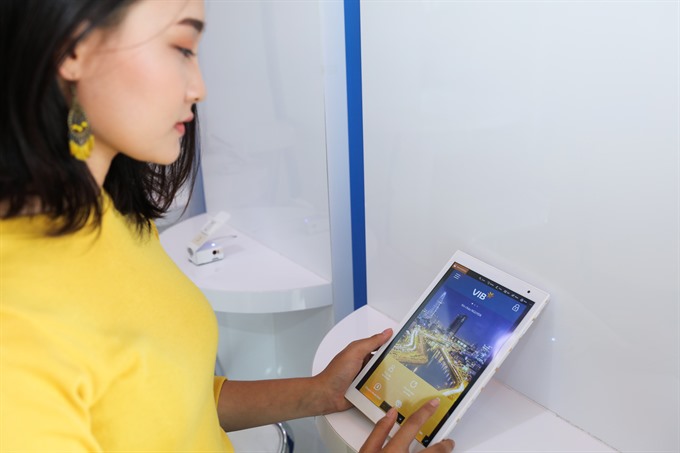 A customer tests VIB's new secure solution.
HÀ NỘI — Vietnam International Bank (VIB) has launched a new security solution named MyVIB Smart OTP for online payments, including Internet Banking and Mobile Banking.
VIB is the first bank in Việt Nam to apply the technology solution that does not require mobile phone service, enabling customers who travel or work abroad to make quick banking transactions without using roaming plans.
With VIB's Smart OTP application, customers do not need to open the app to get OTP, they just need to enter the PIN of the MyVIB Smart OTP app directly. The OTP will then be automatically filled in. Therefore, customers do not have to move between applications while making transactions as well as remember the OTP, helping them save time.
In addition, MyVIB Smart OTP can identify high-value transactions and provide appropriate advanced OTP. Hence, the protection ability for transactions is improved.
Under the State Bank of Việt Nam's Decision No 630, which will take effect in 2019, with high-value transactions, banks must provide One-Time Password (OTP) authentication based on advanced security solutions, such as soft OTP, Token, advanced Token and biometric verification.
The regulation aims to improve security of online banking services and minimise risks of online payment.
VIB's newly-launched solution is not only aimed at supporting the Vietnamese Government's cash restriction policy and comply with Decision630, but also bring about advanced, secure and convenient technology experience to customers using online transactions, a representative from VIB said.
Customers can register for MyVIB Smart OTP service directly on the MyVIB application with two simple steps without going to a branches and use it for free.
Besides MyVIB Smart OTP solution for individual customers, VIB also offers advanced Token OTP (OTP Display Card) with the same functions for corporate customers.
With many achievements in digital banking, VIB has been consecutively awarded by international organizations such as Global Banking & Review Finance, The Asset and IDG. These recognitions honoure the bank's great efforts in implementing advanced technologies to bring the best experiences to customers.
Source: vietnamnew